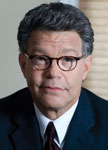 We would like to extend our congratulations to Al Franken on receiving the Democratic Party's endorsement. Franken is now the Democratic nominee for the US Senate race in Minnesota.
Click HERE to see an interview with Franken from NPR/Twin Cities Public Television.
NPR also has a cool, interactive map HERE that covers all of the 2008 US Elections. See how your candidate's doing in every state.
And, of course, check out the official AL FRANKEN FOR SENATE website.