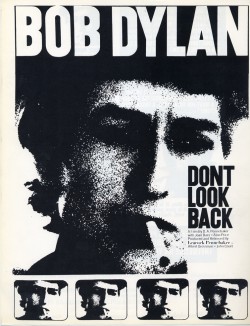 Wednesday, May 18 – Thursday, June 2
Showtimes: 1:00, 4:45, 8:30
D A Pennebaker in person on
Tuesday, May 31 at the 8:30 show!
Read A.O. Scott's review in The New York Times:
"Dont Look Back [sic] is so perfect and prescient that Todd Haynes, in some parts of I'm Not There, had only to restage some of what Mr. Pennebaker had captured. Watching the original now, in the wake of I'm Not There, you may be astonished at Bob Dylan's uncanny ability to impersonate Cate Blanchett.
"Like A Hard Day's Night — or, for that matter, Jean-Luc Godard's contemporaneous films — Dont Look Back retains a startling hold on the present tense."
Advance tickets may be purchased online