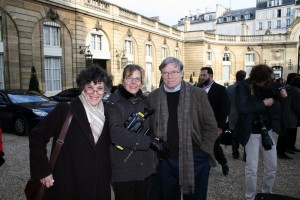 Flora Lazar, Chris Hegedus & D A Pennebaker in front of the Palais de l'Elysee
In January, Chris Hegedus, D A Pennebaker and Flora Lazar filmed French President Nicolas Sarkozy present the awards for the Meilleurs Ouvriers de France, a competition held every four years to determine the best chefs in France. Last fall the trio followed various chefs as they trained and competed for the MOF. The film is currently in post-production. Check back for more information on the MOF film over the next few months.
In the meantime, you can learn more about the MOF Competition and MOF chef Sebastien Cannone, who is featured in the new film, by listening to this Chicago Public Radio Podcast.