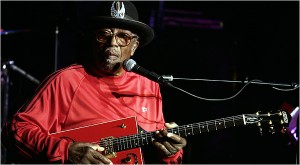 Like all of you, we were very sad to receive news of Bo Diddley's passing on Monday. Bo continually took the concept of being a "self-made man" one step further – as the New York Times put it, he "invented his own name, his own guitars, his own beat and, with a handful of other musical pioneers, rock 'n' roll itself."
In 1969, D A Pennebaker went to Toronto to film the Sweet Toronto Peace Festival, which featured the 'fearsome four' of rock'n'roll: Bo Diddley, Chuck Berry, Jerry Lee Lewis, and Little Richard – and a surprise performance by John Lennon's brand-new Plastic Ono Band. The resulting film became known as Sweet Toronto (Keep On Rockin'). Bo's electrified performance at the start of the film, getting the crowd moving and shaking. Getting them rocking. To us, that's what Bo was all about: spreading the pure joy of rock'n'roll.
Go here to read the full NY Times obituary for Bo Diddley.