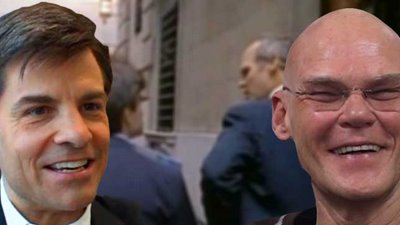 Pennebaker Hegedus Films' and McEttinger Films' newest release, The RETURN of THE WAR ROOM, premieres TONIGHT at the PALEY CENTER for MEDIA, at 7pm. Click here for directions, tickets, and more info.
Hope to see you there!
The RETURN of THE WAR ROOM will also be airing on the Sundance Channel on Monday, October 13th, at 9PM EST.
16 years after making THE WAR ROOM, Chris Hegedus and D A Pennebaker's 1992 Oscar-nominated documentary following Bill Clinton's first presidential campaign, the filmmakers reunite with James Carville, George Stephanopoulos, Mary Matalin, Paul Begala, Bob Boorstin, Dee Dee Myers, and others to reflect on the changes in American politics and political campaigns over the last 16 years, and to look back on the election that launched them all into the national political spotlight. The RETURN of THE WAR ROOM is a highly entertaining and in-depth look at the evolution of American politics, including commentary and insight on the current presidential campaigns.