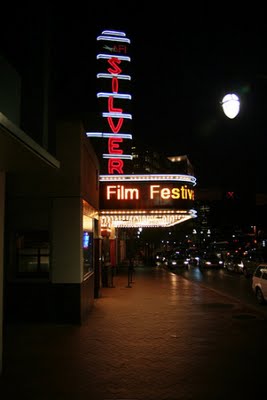 The AFI-Discovery Channel Silverdocs Documentary Festival will honor the work of Chris Hegedus and D A Pennebaker at this year's Charles Guggenheim Symposium, to be held on June 23.
The Symposium, named after four-time Oscar winner Charles Guggenheim, honors filmmakers who are masters of the documentary form.
"With a collective body of work spanning over fifty years, Hegedus and Pennebaker have influenced a generation of filmmakers in direct cinema. Whether it be Bill Clinton's first presidential campaign, the three-day 1967 Monterey Pop Festival, an intimate portrait of Bob Dylan or a behind-the-scenes view of dot com mania, they have captured some of the most important subjects and iconic figures of our time," said Silverdocs festival director Sky Sitney. "We are thrilled to recognize their vast contribution to cinema in the documentary form."
Following a screening of excerpts from their work, Hegedus and Pennebaker will be joined by special guests to discuss their filmmaking efforts thus far.
Past Guggenheim honourees include Barbara Kopple, Martin Scorsese, Jonathan Demme, Spike Lee, Albert Maysles and Frederick Wiseman.

Advance tickets are available from the festival's website.